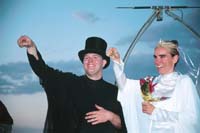 Scott and Kiki are in love.
We have made our promises to eachother when
Scott asked me to marry him and I said "yes".
This wedding is a promise to the community.
What is important to a community when two people are married?
What promises do we make to the community?
Don't cheat on one another?
Don't turn the TP around?
What?
YOU, our community will decide this evening.
Speak now........or forever hold your peace...

++++++++++++
Wedding photos!!
and
Wedding portraits!!
now on-line!!
Also pre-wedding and post-wedding photos!
If you have photos of the wedding,
or just of Sparky and Kiki at Burning Man
please email us!
++++++++++++